Pick up café – an American Diner in Norway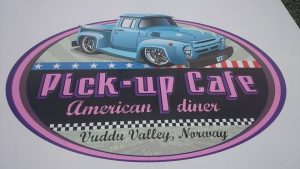 When in Norway, be sure to visit this beautiful American Diner, Pick up Cafe.  The diner is attached to Kortmann's Candle Factory Lysfabrikk which is owned by Reidun and Svend Otto Soyseth, and is the culmination of their 20 year "obsession" with everything American!  With a 50's jukebox and an eye catching color scheme of ocean, pink and black, are sure to enhance your dining experience.  Wonderful  food in a fabulous fifties environment…nostalgia personified!
The diner opened just before Christmas 2014, and according to the most recent patrons, it is just like the USA in the 50's.  The menu includes burgers, club sandwiches, brownies, ice cream and more.