Clearance Specials

DINER BOOTH SET #1
44″ Drive In Diner Booth set in Graphite with Tropical Blue Piping: Table in Turquoise Ebony Boomerang and 1.25″ metal Banding
Retail $1,542
50% OFF
$771
Complete Set + Shipping
---
DINER BOOTH SET #2
Modular corner booth set, with 46″ round Wood table and classic table base
Retail $3,720.70
50% OFF
$1,860.35


Complete Set + Shipping
---
DINER BOOTH SET #3
36″ Round Laminated Edge table in Almond with 4 of our C1DT-SH Diner chairs in beige with Yellow Piping
Retail $1157.02
50% OFF
$578.51


Complete Set + Shipping
---
TABLE SET #4
36″ x 60″ oval white table with exclusive 2.5″ Deco banding and 6 of our C1MB-SH diner chairs in Red and White
Retail $2982.20
50% OFF
$1,491.10


Complete Set + Shipping
---
DINER BOOTH SET #5
44″ TCB Diner booth set in Red Zodiac with Silver V and Piping: Table in Glacier boomerang and 2.25″ Real metal banding
Retail $2086.00
50% OFF
$1,043


Complete Set + Shipping
---
DINER BOOTH SET #6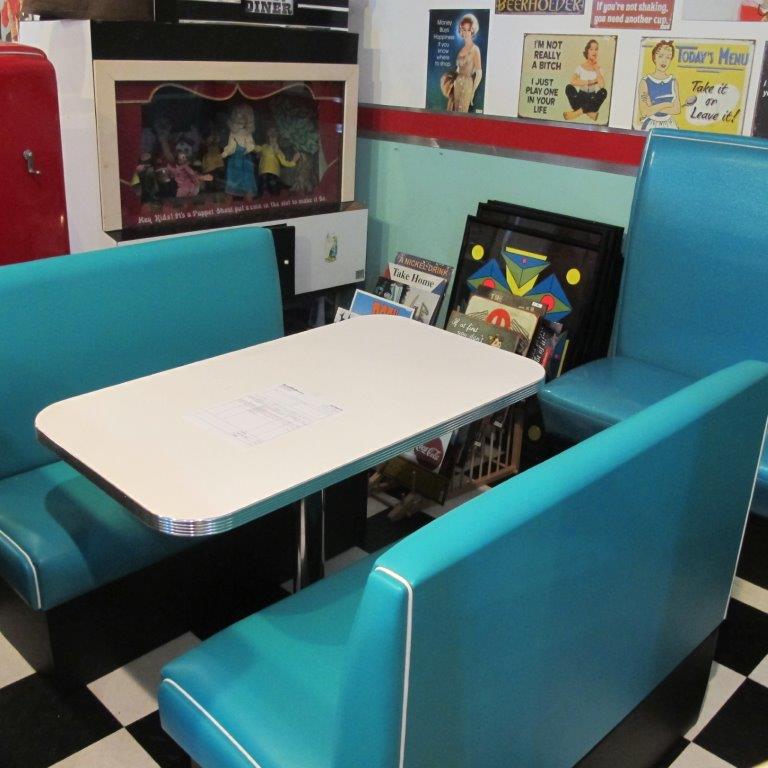 44″ Drive in Diner booth set in Teal with White Piping: Table in white with real 1.25″ metal banding
Retail $1497.00
50% OFF
$748.50


Complete Set + Shipping
---
BOOTH SET #9
Featuring Diamond Tufting And Upholstered In American Beauty Red (1) 44" X 44" "L" Shape Booth (1) 24"X24" Custom Cut Table In Glacier Boomerang With 2 ¼" Real Metal Banding (1) Classic Chrome Column Base Condition: 2 Very Slight Pinpricks In Vinyl On Booth Back – See Closeup Images! One Is A "Dot" In Size, And One Is 1/16"…Very Small.
Retail $

2,991
CLEARANCE PRICE!
$1,795
Complete Set + Shipping
---
More items COMING SOON!