Sold in 12 foot strips and perfect table or counter top project.  Please note – This is not plastic, but real metal.  It will bend around most corners and really gives a table or counter an enviable retro look
Exclusive Custom Banding
Our exclusive custom metal banding adds a distinctive look to any table or countertop. Our first exclusive banding is called "Groovy Insert Banding" and features two slots into which we insert matching material to coordinate with your table laminate, or chair vinyl! This banding lends a rich and dynamic look to any table. Groovy Insert Banding is used on most of our leaf tables and is a prominent feature on our Oval or Rectangle Kitchen Dinette Sets.
Groovy Insert Banding is 3″ and is sold in 12 foot strips, with a two-strip minimum order. This selection is not recommended for the novice builder because it is a bit trickier to work with than our other metal table edgings. Take a look at some of the great tables we have made featuring this custom Groovy Insert Banding!
To place your order, send an email or call 304-728-0547 for personal assistance.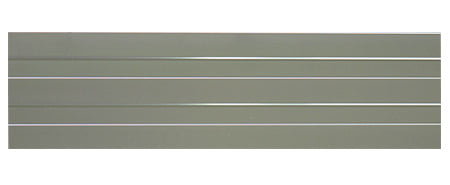 3″ (with matching inserts)