We Love Our Residential Customers!
Our residential customers have provided all the beautiful pictures you will see below; take a look to view the scope of our projects. Our initial sales focus was set for restaurants and diners around the world, without too much thought to our residential customers. Thanks to the internet and the increasing popularity of retro furnishings, we have happily expanded into the residential market as well. This market base has grown steadily each year since the birth of the internet and our first website in 1997. Shown below are some of our residential customers' homes highlighting their custom retro purchases from BarsandBooths. This is a great place to get retro room ideas and view photos of actual retro rooms, kitchens, game rooms, and home bars.
If you have any questions about a certain room or piece of custom furniture/vintage machines send us an email or call us referencing the customer page name.
See some of our happy customers below! We can customize any bar of your choosing!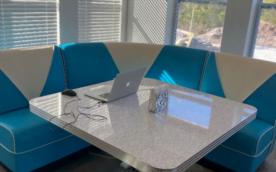 Peter's "Office" Orlando, FL #17403   Thanks Peter for sharing this great image!  Capri Blue with Oyster Accents were perfect color choices for your home "office".  You have incredible warm Orlando weather and a beautiful "beachy" desk.  What else could one ask for? ...
read more