Retro Cafe Seating
Create a gathering space you'll love with our cafe seating. Our furniture is made in the USA which means you're getting a high quality and durable product that will last for years to come. Our cafe seating is also customizable which means you can create whatever kind of experience that you are looking for.
Red Cracked Ice Dinette
Everybody loves RED!  An exciting color, beautiful to the eye, and by far, the most popular color in the retro arena.  This is a 24"x24" square table top, laminated in Red Cracked Ice, with 2 ¼" metal banding.  The coordinating chairs are our HandleBack chairs, upholstered to match!  Perfect for a small area, a college apartment, a NYCity apartment…fits almost anywhere!
Thinking Of Different Colors For This Retro Cafe Dinette? We Can Do That, Too. Let Us Know What You Have In Mind!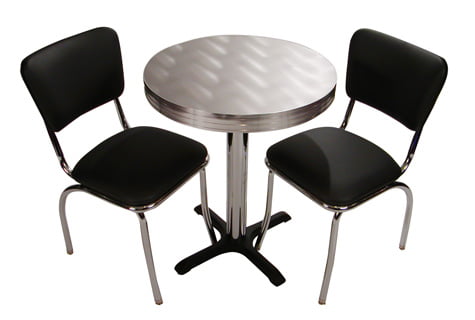 Retro Cafe Seating – Metal Top
We think this retro cafe dinette speaks "sophisticated, sleek, and elegant" but the best word is probably COOL! We love the unique table,  a 24″ Round with Premium Metal Laminate, 2 1/4″ metal banding and Classic Chrome Column Base. The two C1 Classic Diner Chairs are upholstered in Ebony. The black and grey of this set can be used with almost any other color scheme for your restaurant or home. Pair these tables with a custom diner counter in black, add trim in a custom color, and everyone will be saying…very COOL!
Thinking Of Different Colors For This Retro Cafe Dinette? We Can Do That, Too. Let Us Know What You Have In Mind!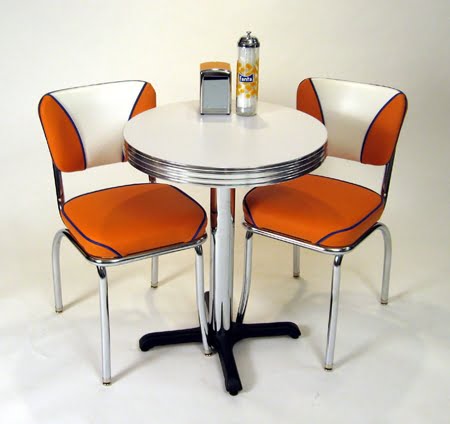 Cafe Seating – Fanta© Theme Cafe Table
Fanta© Theme Cafe Table And Chrome Dining Chairs Are Designed And Made In USA. Commercial Quality – Built To Last!
Using the colors of Fanta soda, this cute two-person set has two (2) 921 Series – Elite Retro Chrome Dining Chairs featuring a contrasting back insert, upholstered curved back, and a 2 inch waterfall seat pad with contrasting piping. Fantastic Fanta© Colors!
The 24″ White Laminate Round Table Top has 2¼" Real Metal Banding, and a Classic Chrome Column "B" Series Base.
Call 304-728-0547 or email us today to place your order!
Don't forget to check the major manufacturers of laminates….we carry them all so that we can manufacture your table or countertop in any laminate you wish!  Click on the links below and start shopping for your perfect laminate.