We Think You'll Love Our Family Dining Sets!
Our custom design/build service provides you with an almost unlimited choice of style, size, laminate, banding and upholstery. Below you will see a few of our most popular groupings of retro kitchen dinettes and other complete dinettes. We don't mean to confuse with all these selections, but simply want you to know that we can customize a set JUST FOR YOU, whether it's retro or contemporary, or traditional! You pick the colors, pick the size, pick the type of banding, and pick your chairs. We are happy to price out your custom set.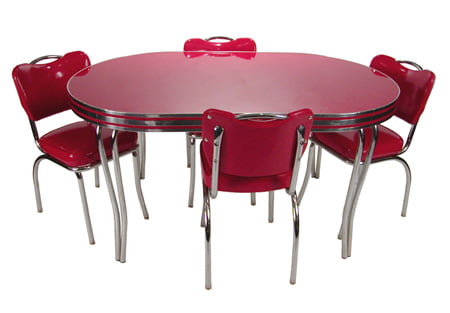 Red Cracked Ice Retro Dinette Set
Family Dining at its best!  I told you we love RED! How about this 36″ x 60″ oval retro dinette set? It seats six comfortably and features the very popular and retro Handleback Chair! As pictured, his  set consists of a 36″ x 60″ Oval table in RED Cracked Ice Laminate with our Groovy Insert 3″ real Metal Banding and double pole retro chrome legs. The 4 retro chairs are upholstered in matching Red Cracked Ice. Simply stunning!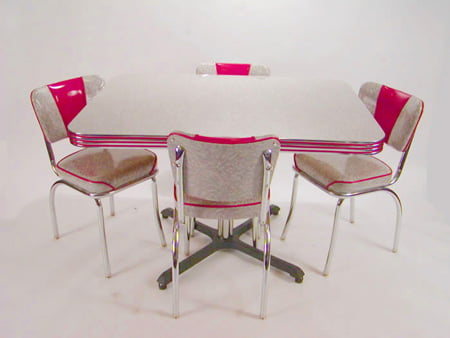 Gray Cracked Ice Retro Dinette Set – Wheelchair Accessible
On occasion we are asked to manufacture a table for a retro dinette set that will work at different heights, such as a "wheelchair" height.  A pedestal base works well  and allows us to provide the appropriate height base for these special needs.  This is a beautiful dinette set that will easily accommodate six. 
Let us know your requirements and preferences for your dinette set!
Gray and Red Retro Dinette Set
If you prefer a retro dinette set with an oval shape, check out this gorgeous set. This dinette set  in Metallic Gray laminate works beautifully with our Red Cracked Ice chairs.This is another perfect set for seating for four that would work well in a retro setting, or contemporary decor.Remember, the choice is yours when it comes to BarsandBooths.com's custom dinette sets! Let us know if you like this set or if you have different colors in mind!