Quarter, Half and Three-Quarter Booths
Quarter, Half, And Three-Quarter Circle Booths Are Perfect For A Corner Of Any Kitchen Or Game Room.
The standard half circle diner booth shown in English Pub Chocolate vinyl is 44″ x 84″ x 44″. This is the perfect size for 4 adults and gives you room on the outside for an extra chair or two. Completing the set is our custom 24″ x 42″ table with Groovy Insert Banding.
Below our standard half-circle is a custom Vegas 3/4 circle booth with Mitred Corners. We can build your booth and table in any size, with any of our standard or premium vinyls and laminates. Customization is our specialty!
Please contact us at 304-728-0547 if you have any questions or to order your Diner Booth today!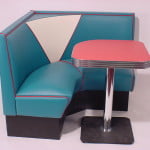 Corner Drug Store Custom "L" Shape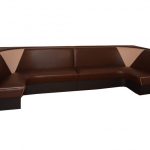 Corner Drug Store Half Circle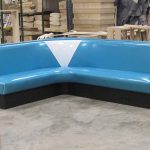 Vegas "L" Shape & Storage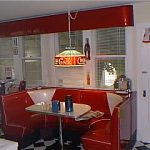 Soda Fountain Half Circle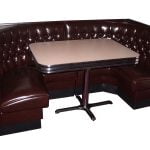 Vegas Half Circle in EP Chocolate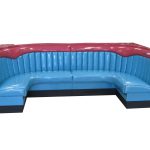 Cruiser Red Black L Shape
Let Us Custom Build Your Diner Booth
As one of the largest Retro Furniture Stores on the internet, our furniture is designed for the most rigorous restaurant use, but is also ideal for the home owner who is looking for top quality. New, but custom made by the people who made it in the 40's and 50's. In addition, our line of Custom Retro Furniture and Game Room Bars are designed as a "signature" piece for your "retro" room. If you can't find exactly what you are looking for on our website, give us a call and we will custom build it for you!