Julie's Kitchen Nook – Huntersville, NC
We were happy to accommodate Julie's wish for a retro diner booth that would fit beautifully in a small space. For her kitchen nook, Julie chose a single Vegas 44″ bench in a Sage Vinyl and Adobe White piping with Diamond tufting. She added two Chrome finish Classic Chairs upholstered in White with Sage piping and buttons with a Curved Diamond Tuft back. To maximize seating, Julie opted for two stools for her island. The B2T3 stools, upholstered in Sage vinyl, feature Arched Legs with Revolving Grooved Ring seats and a Chrome finish. Julie's 24″ x 42″ table is laminated in Glacier Boomerang and has 2.25″ Real Metal Banding. For more diner booth ideas, please see our diner booth page.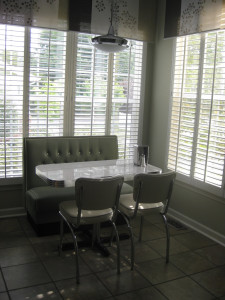 Julie, your retro kitchen nook looks fabulous and we're glad to hear you're thrilled with your furniture! Thank you for sharing your terrific pictures with us.
Julie's Kitchen Nook
Huntersville, NC
#11647
You May Be Interested in these Retro Products for your Kitchen or Kitchen Nook