Georgetown, TX
The Randall Retro Bar went with a 6 foot bar, back bar, and credenza. The top surfaces are a "Orange Pop Plastique" made by Formica. The bar and credenza are upholstered in two colors: Sunburst with Flat Rock. A lot of custom features were added to the bar and credenza such as drawers, wine rack, and pin-striped metal edge banding.
The seating area was created using our modular diner booths. One corner unit and one 48 inch bench, create a perfect L shaped kitchen nook. Custom cut table follows the contour of the booths. The Randoll's also chose to have a "V" added to the backs of all the chairs and bar stools. The colors look great!
"We really love our new furniture! It is absolutely great! Dan is very pleased with his bar, and Amelia loves
the diner booth. It was also wonderful of you to go to the extra trouble of getting here on time for the party. All our guests loved it too! It was definitely the hit of the party".
For more information on our retro bars send us an email or call 304-728-0547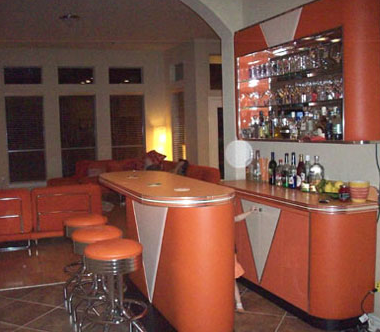 #6178