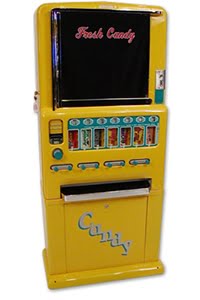 Stoner 180 Candy Machine with Gum Selector
This Machine Is Very Similar To The 180 But Has The Great Feature Of Vending Gum Or Lifesavers.
Here you can see the vintage Stoner 180 With Gum Selector. We restore these machines in just about any color you can think of. We also carry a full selection of Stoner Candy Machine parts so you can do you own personal restoration. These machines were produced throughout the 50's and 60's, and this one is bit harder to find than the regular Stoner 180's.
For pricing information on our Candy Machines give us a call at 304-728-0547. Or send us an email and one of our retro specialist will respond right away. We offer a great commercial customer discount when ordering in large quantities. Let us help you build your diner or retro restaurant.
Capacity: 160 Bars
Height: 68″ Width: 30″ Depth: 14″
Weight: 240 lbs
You Never Have To Read Our Fine Print To Learn What We Do To Our Machines! We Only Do Them One Way And One Way Every Time!
Over the years we have had a number of people copy our efforts and attempt to duplicate what we do. We appreciate the compliment, and it reinforces our belief that we are the yardstick others use to compare. However, we do not want customers to be misled into thinking they are getting the same product or products that we are known for producing and standing behind. For this reason, we have created this simple guide to help you compare restorations.
Please read their fine print since most companies restore each machine a little differently, doing only what they feel is necessary to get the machine out the door.