Vintage Machines
Nothing Says Americana More Than A Coin Operated Vintage Machine That Has Been Fully Restored For Your Game Room, Restaurant, Office, Or Garage.
Through Back In Time Warehouse, you may choose from machines, such as the popular Vendo 81s, Coca Cola chests, and other vintage machines. Rest assured that these have been restored by the best in restoration! All of the restored coke machines are restored from top to bottom. The machines include brand new refrigeration and come with a 2-year warranty that you will not find at any other restoration company. Back In Time Warehouse uses nothing but the finest PPG paints and the skilled craftsmen are experts at keeping a machine as true to its original form as possible, while providing you with lasting years of function and beauty.
BarsandBooths also specializes in restoring unique and rare vintage machines. These include the very popular Stoner candy machines, which were found in every major movie theater in the 50s. Our vintage original kiddie rides include classics like Sandy and Champion Horse, and the rare and unique rides like Dumbo the Elephant and the Bat-mobile. All the rides are restored inside and out with new motors and coin mechanisms to ensure your little one gets years and years of enjoyment.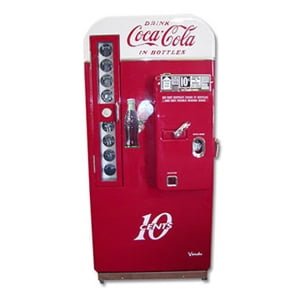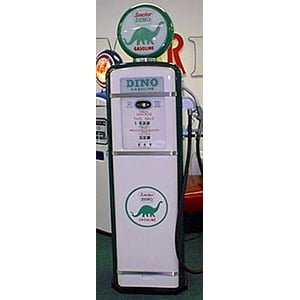 You Never Have To Read Our Fine Print To Learn What We Do To Our Machines! We Only Do Them One Way And One Way Every Time!
And, we did forgot those music addicts! Our line of restored jukeboxes and brand new jukeboxes are second to none. We are a  proud supplier of Rock-Ola who offer the very best in modern juke boxes that play CD's or MP3s but still have that classic retro look. Our original jukeboxes are restored just like their soda machines from top to bottom. These include the classic Wurlitzer 1015, Seeburg R, Seeburg G, and Seeburg C. And if you need records for your jukebox we can get you brand new sets that include all the original classics and even modern classics. If you are on a budget, consider the Crosley line of jukeboxes, which are perfect for your retro kitchen or game room. Come see why BarsandBooths is the true specialist when it comes to vintage machines.
And for the petrol enthusiast, BarsandBooths restores original gas pumps that look great in any man cave area.